New Matter Index Set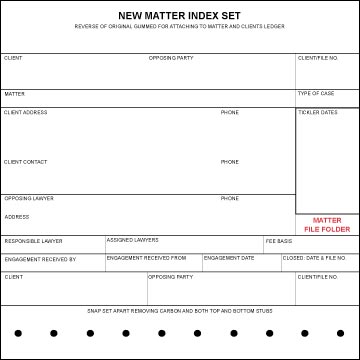 New Matter Index Set
5" x 5", 100 sets per package. 4 Part Snap Set
An effective manual and paper based system for getting files opened, setting up a manual conflicts check, as well as setting up a manual client database and reminder system.

Part 1 - Matter File Folder, gummed for atttaching to matter file & client ledger. Pre-perforated along two places to remove and place it on your file so you can name the client's file by affixing this strip.

Part 2 - Accounting
Keep accounting information as to what matters are opened and closed.

Part 3 - Tickler

Part 4 - Master Alpha Index (Card Stock)
These cards are placed in a 3x5 card box for the appropriate dates and are pulled and placed on the responsible lawyer's desk so the responsible lawyer can review the cards to be sure all the matters are being handled in a proper fashion.



View Sample
PDF
Attorney - New Matter Index Set