Payroll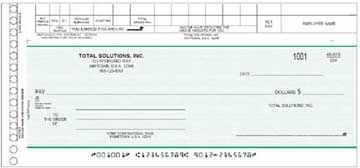 Payroll System:
Our Payroll Package System includes:
300 Top Write Single Carbon Band Checks, 50 Payroll Journals, 50 Compensation Records, 500 Envelopes & 1 Folding Board.

Available in Blue, Gold, Green or Rose.

After placing your order, please fax a sample Check or specification sheet to (973) 252-1885. Reference your order number and the starting number you would like to begin with.
View Sample
PDF
Payroll Package System

Payroll Checks

Payroll Journals

Earning Record Cards

Double Window Envelopes